How to Root Alcatel IDOL MINI 6012X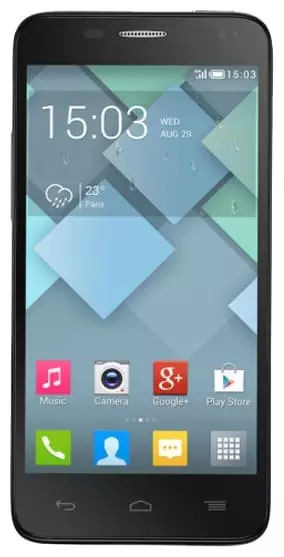 Important! By installing the root on Alcatel IDOL MINI 6012X you acknowledge that you do this at your own risk.
You acknowledge that your actions may lead to you:
bricking" your device;
disrupting the OC's function;
losing warranty and OTA updates;
increasing the vulnerability of your device;
losing the ability to use banking services and wireless payment systems.
If you acknowledge this, then the programs that will help you get root access for the Alcatel IDOL MINI 6012X smartphone are at your service.
How to Root Alcatel IDOL MINI 6012X via Apps
First, let's look at some easy ways to enable root permissions through special applications. If they didn't work, read on and try the instructions for methods including PC software and Custom Recovery.
KingRoot
Download the application from the official website and install it on your device.
Open KingRoot and wait until it gathers all the necessary information about the device.
Click "TRY TO ROOT".
If you see the option to free up your device from junk, the process went successfully. Reboot the device to make sure.
Framaroot
Download the software from the developer's webpage and install it.
Run the app and select one of the applications for managing root access: Superuser or SuperSU (the second one is easier to work with).
Choose the exploit to hack the system.
You will be greeted by an emoticon after successful installation.
Baidu Root
Download Baidu Root, install it.
Click "Get Root Access".
The app will inform you if the procedure was successful.
We recommend using SuperSU for convenient root access control, a tried-and-true and simple tool.
Video: How to Root Alcatel IDOL MINI 6012X
Other ways to enable superuser rights for Alcatel IDOL MINI 6012X
Use these instructions if Custom Recovery or other methods have not yielded the desired results.
VRoot (for PC)
Download and install the software to your PC.
Disable your antivirus program and connect your device to the PC.
Click "ROOT" after your device has been identified.
The phone will reboot, after which you're free to disconnect it from the PC.
Magisk (For Custom Recovery)
The best way for devices with unlocked bootloader and Custom Recovery.
Download the Magisk archive from and the Magisk Manager application.
Enter Recovery and wipe "cache" and "dalvik-cache".
Install the Magisk .zip archive.
Wipe "cache" and "dalvik-cache" once again..
Boot the system.
Install Magisk Manager and open it.
To make sure that everything was set up properly, install the Root Checker application from the Play Market, open it and run a check for superuser rights on your device.
Share this page with your friends:
See also:
How to flash Alcatel IDOL MINI 6012X
Hard reset for Alcatel IDOL MINI 6012X
How to unlock Alcatel IDOL MINI 6012X
How to reboot Alcatel IDOL MINI 6012X
What to do if Alcatel IDOL MINI 6012X won't turn on
What to do if Alcatel IDOL MINI 6012X doesn't charge
What to do if Alcatel IDOL MINI 6012X doesn't connect to PC via USB
How to take a screenshot on Alcatel IDOL MINI 6012X
How to reset FRP on Alcatel IDOL MINI 6012X
How to update Alcatel IDOL MINI 6012X
How to call recording on Alcatel IDOL MINI 6012X
How to connect Alcatel IDOL MINI 6012X to TV
How to clear the cache on Alcatel IDOL MINI 6012X
How to backup Alcatel IDOL MINI 6012X
How to disable ads on Alcatel IDOL MINI 6012X
How to clear storage on Alcatel IDOL MINI 6012X
How to increase font on Alcatel IDOL MINI 6012X
How to share internet on Alcatel IDOL MINI 6012X
How to transfer data to Alcatel IDOL MINI 6012X
How to unlock bootloader on Alcatel IDOL MINI 6012X
How to recover photos on Alcatel IDOL MINI 6012X
How to record the screen on Alcatel IDOL MINI 6012X
How to find blacklist in Alcatel IDOL MINI 6012X
How to set up fingerprint on Alcatel IDOL MINI 6012X
How to block number on Alcatel IDOL MINI 6012X
How to enable auto-rotate on Alcatel IDOL MINI 6012X
How to set up or turn off an alarm on Alcatel IDOL MINI 6012X
How to change ringtone on Alcatel IDOL MINI 6012X
How to enable battery percentage on Alcatel IDOL MINI 6012X
How to turn off notifications on Alcatel IDOL MINI 6012X
How to turn off Google assistant on Alcatel IDOL MINI 6012X
How to turn off the lock screen on Alcatel IDOL MINI 6012X
How to delete app on Alcatel IDOL MINI 6012X
How to recover contacts on Alcatel IDOL MINI 6012X
Where is the recycle bin on Alcatel IDOL MINI 6012X
How to install WhatsApp on Alcatel IDOL MINI 6012X
How to set contact photo in Alcatel IDOL MINI 6012X
How to scan QR code on Alcatel IDOL MINI 6012X
How to connect Alcatel IDOL MINI 6012X to computer
How to install SD card in Alcatel IDOL MINI 6012X
How to update Play Store in Alcatel IDOL MINI 6012X
How to install Google Camera in Alcatel IDOL MINI 6012X
How to enable USB debugging on Alcatel IDOL MINI 6012X
How to turn off Alcatel IDOL MINI 6012X
How to charge Alcatel IDOL MINI 6012X
How to use the camera on Alcatel IDOL MINI 6012X
How to find lost Alcatel IDOL MINI 6012X
How to set password on Alcatel IDOL MINI 6012X
How to turn on 5g on Alcatel IDOL MINI 6012X
How to turn on VPN on Alcatel IDOL MINI 6012X
How to install apps on Alcatel IDOL MINI 6012X
How to insert a SIM card in Alcatel IDOL MINI 6012X
How to enable and configure NFC on Alcatel IDOL MINI 6012X
How to set time on Alcatel IDOL MINI 6012X
How to connect headphones to Alcatel IDOL MINI 6012X
How to clear browser history on Alcatel IDOL MINI 6012X
How to disassemble Alcatel IDOL MINI 6012X
How to hide an app on Alcatel IDOL MINI 6012X
How to download YouTube videos on Alcatel IDOL MINI 6012X
How to unblock a contact on Alcatel IDOL MINI 6012X
How to turn on the flashlight on Alcatel IDOL MINI 6012X
How to split the screen on Alcatel IDOL MINI 6012X
How to turn off the camera sound on Alcatel IDOL MINI 6012X
How to trim video on Alcatel IDOL MINI 6012X
How to check RAM in Alcatel IDOL MINI 6012X
How to bypass the Google account on Alcatel IDOL MINI 6012X
How to fix black screen on Alcatel IDOL MINI 6012X
How to change the language on Alcatel IDOL MINI 6012X
How to open engineering mode in Alcatel IDOL MINI 6012X
How to open recovery mode in Alcatel IDOL MINI 6012X
How to find and turn on a voice recorder on Alcatel IDOL MINI 6012X
How to make video calls on Alcatel IDOL MINI 6012X
Alcatel IDOL MINI 6012X sim card not detected
How to transfer contacts to Alcatel IDOL MINI 6012X
How to enable/disable «Do not disturb» mode on Alcatel IDOL MINI 6012X
How to enable/disable answerphone on Alcatel IDOL MINI 6012X
How to set up face recognition on Alcatel IDOL MINI 6012X
How to set up voicemail on Alcatel IDOL MINI 6012X
How to listen to voicemail on Alcatel IDOL MINI 6012X
How to check the IMEI number in Alcatel IDOL MINI 6012X
How to turn on fast charging on Alcatel IDOL MINI 6012X
How to replace the battery on Alcatel IDOL MINI 6012X
How to update the application on Alcatel IDOL MINI 6012X
Why the Alcatel IDOL MINI 6012X discharges quickly
How to set a password for apps in the Alcatel IDOL MINI 6012X
How to format Alcatel IDOL MINI 6012X
How to install TWRP on Alcatel IDOL MINI 6012X
How to set up call forwarding on Alcatel IDOL MINI 6012X
How to empty the recycle bin on Alcatel IDOL MINI 6012X
Where to find the clipboard on Alcatel IDOL MINI 6012X
Root for another smartphones